Your kitchen gets a lot of traffic and use on a daily basis and that takes a toll on the condition of your cabinets. Chances are you notice scuff marks, areas with faded paint or scratches or worn spots due to the effects of cleaning products. As the hub of your home, the condition of your kitchen cabinets has a real effect on the interior design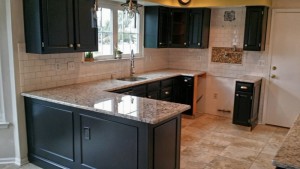 quality of your home.
If you are considering painting your kitchen cabinets yourself, and to ensure the best results, avoid thee common errors:
Results are Not Guaranteed
You know that painting your kitchen cabinets will make them look better, right? (Why do it if not, right?) While it's true that your efforts will improve the look of your kitchen cabinets, it's not a guarantee of a smooth finish. Keep in mind that open-grain, the grooves will show through the paint. You can fill cracks and open grain with putty, but this adds to the time of the project, so have realistic expectations about what your cabinets will look like after you paint.
This is No Weekend Job
This is not a project that happens quickly. There is significant prep time painting time, wait time and cleanup needed to do it right. Painting kitchen cabinets takes at least 5-7 days to complete so be prepared to have your kitchen out of use for that length of time.
You Miss Critical Prep Work
As we noted, there is a lot of prep work that goes into a successful cabinet painting project, including the following steps:
You don't clean the wood. Every painting project requires a clean surface on which to work. Take the time to clean your cabinets with soap and water before you get to work.
Keep track. To paint them properly, you're going to have to remove all your cabinet doors and drawers. Take them off carefully then label your cabinets and drawers by location in your kitchen so when you are finished painting them you know where they need to go back.
Sand and Dust. Before you prime your cabinets and drawers, use fine sand paper to even all the painting surfaces and sue a hand-held vacuum to clean off all the dust and debris so when you paint, you have no remnants to be trapped in the paint.
There is a lot to managing a cabinet painting project effectively, and these are just the most common mistakes made by DIYers. If you are unsure about handing your own project, connect with a kitchen cabinet refinishing professional to get the best results for your cabinets.