Kitchen cabinets are a large part of your interior design. When you invest in a kitchen cabinet refinish, you are looking to add paint colors to your kitchen design that will enhance your décor and provide a long-standing look to your home. When it comes to the durability of kitchen cabinet refinishing, the product is a result of a tiered paint process and custom products that create the look you want to bring your interior design together.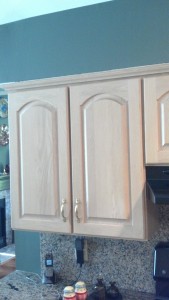 Often times when I complete a cabinet refinish, clients are interested in how long the finish on their refinished cabinets will last. The truth is, it will last nearly as long as the original factory finish. The paint products that are used along with the step-by-step process used to create the custom design for your kitchen cabinets creates an extremely durable finish that can hold up to everyday use.
With today's waterborne paint products, you get the durability of industrial finishes without the odor, messy clean up or the waste disposal issues of oil industrial products. When we refinish cabinets as part of kitchen designs, we use primers that stick to tile, paints that bond to metal and professional level glazes and colorants that resist fading. This means your refinished design will stay put on your cabinets, no matter their surface type.
Protecting the paint colors you select for the kitchen cabinets, we apply clear coats that dry rock hard. This clear coat not only protects your paint colors from the sun, it also saves them from scratching and rubbing when cabinets are opened and closed.
So, when our clients ask us how long their cabinet refinish will last, we can be certain when we say that there's more of a chance that you'll change the finish on your kitchen cabinets due to trending styles in kitchen interior design than due to wear and tear to your cabinet refinish.