Your kitchen cabinets are one of the focal points of your home, something you can use to wow visitors as well as to increase your home value before a sale. With that in mind, when the time comes to update your kitchen cabinets, it's crucial that you find the most professional cabinet painting expert in the area to handle your project.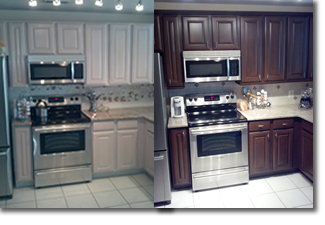 You want to be sure you achieve a stunning result for your refinished cabinets. There are several criteria to look for when selecting a painter to manage your professional cabinet painting job. Your professional cabinet painter should be:
In the state of New Jersey, a professional painter must hold both a license and liability insurance to protect your property when they are on the job. Be sure to ask for your painter's credentials before signing in with them.
When hiring a professional to repaint your kitchen cabinets, keep in mind that even a small project can take a week or so to complete, and some of the work takes place in shop, where the cabinet doors need to be sprayed and dried. During that time your kitchen cabinets will be out of commission. Now imagine your contractor has to drive 50 miles back and forth from your home to his shop. Imagine the time added to the completion of your project. Hire a local painter, one who is an expert at professional cabinet painting, so if you need a touch up when the job is done, you can get it done quickly.
Experienced at Professional Cabinet Painting
While there are many great painters in the area, professional cabinet painting is a skill unto itself. It requires a professional with an eye to be able to look at your existing décor and offer options of the best colors to paint kitchen cabinets, as well as proven experience in the industry, based on a physical or online portfolio of professional cabinet painting pictures.  A reliable kitchen cabinet professional will also bring physical samples of painted kitchen cabinets for you to touch, to feel the texture, finish and see the durability that a professional cabinet refinish lends to your cabinets.
The Man (or Woman) for the Job
When you hire a professional cabinet painting contractor, you should know who is going to be doing the work, and how he'll be doing the project. In other words, was the guy who gave you your custom estimate to have your cabinets refinished the same person who will be in your home, working on your kitchen cabinets?  Comfort with the person who will be sending several days in your home is very important to homeowners, the contractor who provides your estimate should be the same person who will be, at the very least, managing the work onsite for your project.
Once you sign on the dotted line, your contractor should be able to give personal samples of potential colors to paint kitchen cabinets in your home to select from, and the work should be guaranteed.
Refinished cabinets are a beautiful addition to any home, and able to completely change your décor. They simply must be done in the most professional, durable and eye-catching manner to ensure you get the most out of your investment. When it's time to refinish your kitchen cabinets, use these criteria to ensure you get the right guy for the job, the first time around.