Ever have a part of your décor that you loved, but that presented some design issues you weren't sure how to beat?
Case in point, recently, a cabinet refinishing client of our called and noted that they have just installed a brand new, medium-dark oak hardwood floor in their kitchen. They had plans to replace their counter top with a medium-dark granite top.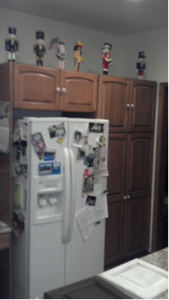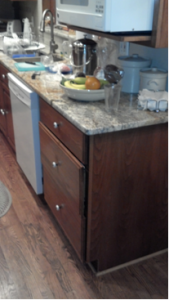 They wanted to redo their cabinets, which at present matched the medium-dark oak of the new kitchen floor which gave the whole room a monochromatic color scheme, in other words, boring.
When they called Carm Interiors, they expressed their interest in cabinet refinishing, but were unsure what colors would work with their new counter and floors to make a statement and add some life to the room.
Our recommendation was to refinish their cabinets with an off-white distressed finish to contrast against the dark floor and counter. For the island, we refinished the cabinets and surfaces in an almost black glaze, to create a focal point for the kitchen as well as contrast with the medium-dark oak floor.
                                       The result was a multi-dimensional room that felt warm and inviting.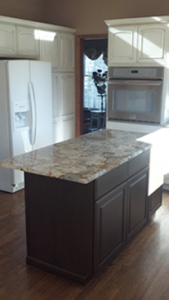 The lesson? Take what you can't change about your décor (the new floor and counters) and contrast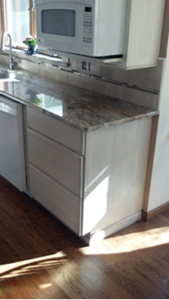 against it to build layers  of color that fit your home décor vision.
Make a bold statement between colors to allow for each aspect of your room to join in the overall look and feel.
 Ready to update your interior décor from drab to fab?
Cabinet refinishing can be the answer to a bland room
that needs some color contrast to bring it back to life.