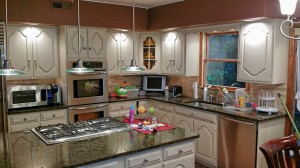 You know how much time you and your family spend in your kitchen. From stocking groceries to meal prep to just hanging out and chatting with your people, the kitchen truly is the hub of most homes, With all that time spent in the space, it gets its fair amount of use and that means wear and tear, to your counters, trim and of course, to your kitchen cabinets.
Cabinetry in the Kitchen Reigns Supreme (for space)
Oftentimes, cabinets are an afterthought as a part of kitchen design, but think of the amount of square footage they cover compared to every other surface in the space? Chances are you have more cabinetry surface than your floors or your counters, making them the most prominent design element to your kitchen, and they deserve the attention as such.
Think of your kitchen cabinets as the central point of your kitchen design, and build out from there.
Looking to Sell Your Home?
According to Trulia: "The rooms buyers most closely inspect (and judge) in a house are the kitchen and master bath. These are the interior spaces where the most value can be added during a sale, so they need to look their best. A well-appointed kitchen will dramatically increase the value of your home, so it's worth spicing up yours to grab buyer attention."
So, take stock of your kitchen. What state Are the counters in? And what about your kitchen cabinetry? Is the paint color outdated bland? Are the surfaces worn and scratched from use? What about your bottom cabinets or kitchen islands ? They often endure a lot of foot-traffic damage, resulting in nicks and scratches. What you see as normal "wear and tear", a potential buyer (or even your house guests) will use to rate your house against another with a better kitchen.
to get the best results for your cabinets.