When you are looking to update your interior design, there is no better place to start than with your cabinets. The are more than the functional organizational space in your rooms, they can be the tie that binds your wall color to your personal design style.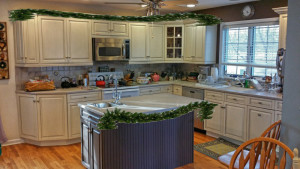 Kitchen Cabinets
Cabinet refinishing is the way to add life to older cabinets, update construction-grade colors and enhance your decor, economically and more quickly that replacing or refacing.
Your kitchen is the hub of your home, where guests and family gather and meals begin and end. As such, this space deserves to represent your individual style and color palette. Refinishing your kitchen cabinets allows you to update the space with the latest trending colors and finish while restoring your cabinets to a better than new, durable condition.
Bathroom, Vanity and Custom Wall Cabinets
Kitchens don't have the corner on cabinetry in your home, most of your other rooms include them for storage, organization and display of your things. Bathrooms and vanity cabinets add some fun flair to what is a pretty utilitarian room, and you can have a lot of fun with cabinet colors, textures and cabinet accessories (decorative trim or capping, for example) to create a truly unique space.
And don't forget about your cabinet-inclusive bookshelves or entertainment centers. Your books, music player and tv deserve a colorful setting from which to be displayed.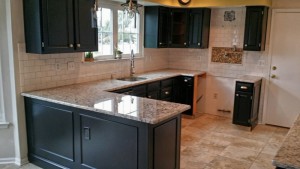 Cabinet Painting Trends
Like most interior design, cabinet painting has trends of its own. They change based on new paint colors introduced to the market, as well as following other interior decor trends to enhance and customize the look of any home. Check our blog regularly to see what the latest cabinet refinishing or cabinet painting trends to use as inspiration for your design updates!
Benefits of Refinishing your Cabinets vs/ Replacing or Refacing them
Decorative trim additions
Crown Molding
Additional cabinets can be installed
Custom cabinet doors can be made
Almost unlimited finishes available
Anywhere from 3 to 5 times cheaper than refacing.