Like any interior design, cabinet styles have their own trends that follow current homeowners choices, the introduction of new colors and accessories as well as new technology for kitchens and home sizes. When you are seeking out the latest trends for cabinets, it's best to start with your personal style and how you intend to use the space where you cabinets reside.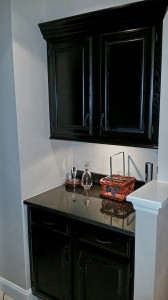 For example, someone who cooks often is going to want an easier-to-clean color, where cabinetry that lives in a more functional space may get a funky pop of color for the sake of adding some life to the area. So how do you figure out the color you want to paint your cabinets?
Cabinet Accessories
Cabinet accessories, capping, trim or custom handles and knobs all add to the look of your cabinets, and also help dictate the potential color palette you choose. A good guide to follow here is:
Modern = cool colors
More classic styles = neutrals and
Antique designs = warm colors
Room Sizes
Depending on the size of your home and rooms, cabinet colors can maximize or minimize your room space. Lighter cabinets help to open a small space up, where darker cabinets add an accent color that can pull a large room together by providing a central focal point.
Cabinet Purpose
What do you intend to us your cabinets for? How often will you use them? Daily? Weekly? What will they house? All of these factors play into the design and colors you choose for your cabinetry.
Ultimately, the most important criterion to consider is that however you refinish your cabinets, they should represent your personality and unique taste, while being functional for whatever purpose you have for them. Make them unique and make your space yours.