Spring often inspires people to update their homes; to make those long-awaited changes to enhance your décor or change the look of your space. Cabinets exist in the highest-traffic spaces in your home, the bathrooms, the kitchen, even in some bedrooms, and by updating the colors and finish of your cabinets you can easily enhance the look of your space.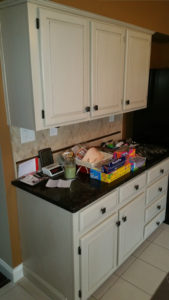 What most people don't realize is that worn-looking cabinets can degrade the style of your home. Cabinets often become "background" noise in your space, with the focus for décor upgrades put on wall colors and trim, the fact is that updating your cabinets can be done quickly and affordably. With that in mind, here are a few of the cabinet color trends for 2017. Which one would work in your space?
White Kitchen Cabinets
The look for kitchens in 2017 is clean and sleek. White cabinets allow you endless accent color options, while making your kitchen feel larger and brighter. While white cabinets are a hot trend, it's true that they can be hard to keep clean. Ensure that the paint used in your cabinet refinishing to white is cleanable and easily maintained.
Gray Cabinets
Gray is 2017's hot neutral color. Where past history has showcased light wood colors like golden oak, gray offers a new pallet for your cabinets, and ultimately your décor. Variances in the color gray you choose can lighten your space, (light grays) or warm it up (medium or dark grays).
Chalk Paint Kitchen Cabinets
If you are looking for a rustic or "farmhouse" look, then chalk paint is the option for your cabinet refinish project. The paint finishes with the rubbed look of a used chalk board, adding a unique feeling to your space.
No matter which of the cabinet trends appeal to you, be sure to connect with a local, professional cabinet refinishing expert to get your new look completed.