Think about all the storage space in your home. Cabinets, drawers and closet doors line the edges and spaces in your rooms. They a;; get handled almost daily, and that takes a toll on their finish. With so much of your room covered in the fascia of these storage areas, if they are not updated and maintained, your interior design suffers.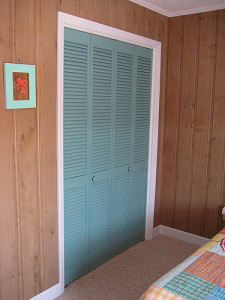 By refinishing the doors and fronts of all your storage areas, you have the opportunity to not only refresh your interior design, you can use them as a way to change the look of your space. Painting your cabinets or drawers with a pop of color that works as an accent totally changes the feel of your kitchen and baths.
Cabinet doors can be painted in dual tones or colors that offset your walls to add character and change the mood in your rooms.
Here are some great ideas when you refinish your cabinets, drawers and closets:
Paint drawers a shade or two darker than your cabinets to add dimension to your kitchen and bath.
If your drawers and cabinets have grooves, paint them an accent color to balance your wall color and cabinet color.
Refinish cabinets to create a focal point in your kitchen and baths.
Be sure the color scheme of your cabinets, drawers and closet doors fit the color palette of the rest of your home. Use a color wheel to stay in the same color families!