Home décor trends change every year as new products, paint colors and accessories are discovered, and the kitchen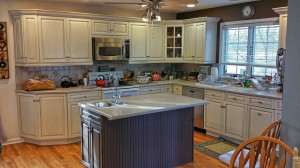 is no different. There are always new trends for kitchens, new options for kitchen cabinets and new products to implement to make your kitchen the best it can be. Read on for some of the hottest kitchen trends for this year, according to Better Homes and Gardens:
Gray is the New White
The color of your cabinets ties together the kitchen space, and white cabinets are a time-tried go-to choice. However, the newest trend for color is to add a hint of color to that white base, resulting in shades of gray for your kitchen cabinets.
Tip: Take it to the next level and combine several shades of gray for deeper color play.
Bold Fixtures
The hardware and fixtures in your kitchen are much more than functional. Put some thought into selecting your sink fixtures, lights and cabinet hardware to enhance your paint choice and create a truly unique kitchen space.
Automate your Kitchen
Today's technology allows for some really great bells and whistles in the kitchen. Sensor-activated lights and no-touch faucets are great additions to kick up the design of your space, while making cleanup easier for you.
The one over-scoping trend for kitchens these days is that they are now considered a "designable room" in your home. Gone are the days of the kitchen being a functional space. Be sure your personal home décor style flows into this space. This strategy will help you choose the elements that best suit it when it comes time to upgrade.