This time of year, in the aftermath of the holidays hectic timelines, and when weather keeps you indoors more often than not, focus turns to the condition of your home and your décor, updates you want to make, changes you've been putting off "until later" or even new inspirations based on things you saw recently in other locations or people's homes. When you are looking to effect the most change to your décor, the best place to start is your cabinets.
Look at the images below: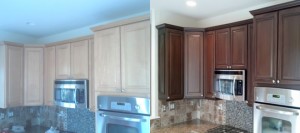 Notice how drastically different the walnut finish on the left is from the original oak.
Your cabinets can change the look and feel of any room or your home as a whole with a new refinish. That said, while ypu're repainting your kitchen cabinets, think about how your walls can be painted to enhance them or create a focal point.
Here are a few tips to get your interior design plans off the ground.
Five Key Criteria to Look for in your Painting Contractor
Interior Design Tip: Use Existing Paint to select your New Cabinet Paint Color
DIY Home Paint Tips: How to Select a Wall Color
The ultimate key is to ensure that you hire the right painting professional to do your project. Trust is key. Our work guidelines are: