If you are considering listing your home for sale, you are probably in the process of assessing the assets and liabilities that your house has to offer a potential home buyer: location, size, style, number of bedrooms and baths are all high-level buyer-sought criteria. An alignment of these details gets them to the open house or walk though of your property. What about the nitty gritty? What makes one home (yours) stand out from the others for sale in your neighborhood?
As any real estate agent will confirm, two of the most popular focal points for a prospective home buyer are the kitchen and bathrooms of a home they are considering. If the cabinets in either of these rooms are in poor condition, the potential of a sale on your home decreases. The same goes if your rooms look out of date due to old-fashioned cabinet colors. No one wants a "1980's" kitchen or one that smacks of the grandma's house. Cabinet refinishing is the most cost-effective process to update your cabinets and give them a brand new look to make the bets impression with potential home buyers.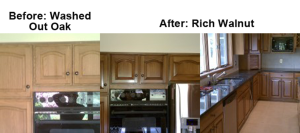 Here's why:
4 Things Home Buyers Look for in Kitchen Cabinetry
2 Often-Overlooked Painting Services that Increase Home Value
How Does Painting Kitchen Cabinets Increase the Value of your Home
Take a look at our expansive gallery of cabinet refinishing photos and when its time to consider selling your home, give us a call for a free estimate to ensure your home has what it takes to sell as quickly as possible.