Ok, so it's only the second week of September, why are we even mentioning the holiday season? Think about it. Every year it goes the same way. Labor Day barbecues, back to school, football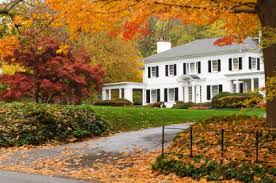 and soccer seasons begin then all heck breaks loose. All of a sudden, the increased schedule that includes homework for the kids, renewed meeting schedules for charity organizations on top of your already-jammed day-to-day life puts you on a quick downhill slide to Halloween. Blink and it's Thanksgiving and turn your head once, and you're packing up the decorations in January.
You know it happens.
Be prepared this year and take the time to give your home a once-over and handle these updates so you're ahead of the crushing holiday schedule as well as the impending changes in the weather.
Outdoor Fall Home Prep
Weather does not take it easy on the exterior of your home. It belts it with heat waves, droughts, freezing cold, rain, debris and contact damage from playing kids or your husband practicing his golf swing. Take the early weeks of summer while it's still warn-ish outside and walk the perimeter if your house and look for potential damage that needs repair:
Check for peeling paint. Remember all that weather and contact damage we noted in the last paragraph? Nothing takes the hits harder than your siding paint. Check for peels, fading or areas that are missing paint. Paint protects the siding from eroding, so its' necessary to give it a touch up as needed.
Clean Gutters. Once your leaves are all down, flush your gutters and downspouts with water to remove all the gunk that's been trapped there. Clogged gutters increase chances of ice hanging from your house as well as damage to your roof from overspill when rainwater can't drain. Saving the cost of a roof repair is well worth the effort to keep them clean.
Caulk Windows. Even homes with new windows can have draft issues – from house settlements to loose windows due to damage. Test your windows from the inside with a blow dryer to see if any air is slipping through the cracks then caulk where necessary.
The exterior of your home is like the ozone layer to your little planet inside. It protects and regulates your environment. Give it the TLC it needs so you can feel safe, warm and dry all fall and winter long.