It's the hub of the house; a regular gathering place several times a day. The place where meals are prepared, sometimes eaten and memories made. The kitchen is an important part of your home, and as such, it deserves the utmost attention to style and design. There are 5 really hot trends hitting kitchens this year, most of them easy on the wallet and timely as well.
Wood Kitchen Cabinets
Wooden kitchen cabinets are all the rage these days. Oak is a clear-cut winner, and this solid wood can be stained any color under the sun to add character-layered durability to your kitchen. Because of the high-grain pattern in most oak wood, it is recommended that a kitchen cabinet professional handle staining or painting your cabinets for the best results.
White Kitchen Cabinets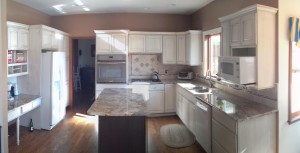 Another hot trend for kitchens this year is white cabinets and appliances, which allow the wall color and other design elements to take center stage over the more functional aspects of your kitchen.
Colorful Sinks
Stainless steel sinks are easy to clean and highly functional, however, they leave a lot to be desired when it comes to kitchen décor. Colorful sinks are all the rage these days, adding bronze, copper or even colored ceramic that matches your home design.
Warm Metal Fixtures
Also moving away from the function of stainless are sink fixtures. Warm coppers, oil-rubbed or antique bronze are replacing the standard silver for faucets, and sink accessories.
Ready to heat up your kitchen décor? Contact us today!