Your home is a combination of colors and textures, from the walls, to rugs to the furniture and wall décor. The one consistent element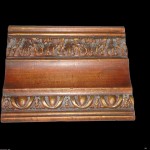 throughout is the trim that follows the angles of each of your rooms. Trim is not only an accent to your rooms, it's also the design element that creates a feeling of consistency, and can add design simply by its color and its style and application. Here are a few ways that trim can kick up the design quality of any of your rooms:
Trim along Walls:  Make the edges of your rooms stand out by painting your trim bright white to match your ceilings. It will make your wall color pop and define your space wonderfully. Take it to the next level by increasing the height and design of your trim to make it stand our more.
Trim along Cabinets: A trend that gained popularity last year, adding decorative trim along kitchen cabinets not only allows your space to be customized to whatever design style you refer, it adds more surface space to your cabinets making them appear larger. Take it up a notch by adding a custom paint color with a refinish.