New year, new designs! As you spend a little more time indoors while Mother Nature rages outside, chances are you have more time than usual to take stock of the décor in your home. As the hub of the home where you likely spend a good portion of your time, the kitchen also gets the lion's share of wear and tear. Following are some fabulous kitchen décor trends that are going to be hot for the year to come, check them out:
Homey, Furniture-Styles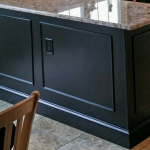 Interior designer Greg Natale sees furniture-style cabinetry becoming hot for kitchens this year. Firming the belief that the kitchen is the center of the home universe, this kitchen cabinet style adds character and hominess to the functional room that is the kitchen.
"The incredible designs available celebrate the different elements of the kitchen as pieces of beautiful furniture, not just workstations, which allows people to bring their own personal, warm, welcoming touch to this space," he says.
A great way to add this décor style to your kitchen is with an island. This versatile counter space can be designed to contrast or compliment your existing cabinetry and adds extra space where your family and friends can gather to boot.
Blending Modern and Traditional Style
Blending sleek, modern elements around your kitchen to create a truly unique space.  Modern elements like glass backsplashes and chrome handles are being paired with brushed nickel fittings or detailed cabinetry.
"This trend is affecting everything from cabinet design to colors, materials to textures. We are really mixing it up," she kitchen designer Kesha Pillay. "Flat-panel cabinet doors are being replaced with classic door profiles, such as Shaker doors," for example. And materials are being mixed, such as stainless steel with wood, and wood with marble.
Luxurious Metallics
Moving beyond the standard chrome or stainless steel, 2015 will bring warm metallic fixtures to your kitchen cabinets like bronze, copper or gold.
"Metallics in all their forms were prominent at [Paris design fair Maison & Objet], from copper to bronze to gorgeous gold, and I'm a fan," says Vaughn, "The texture and gleaming finish of metallics provide a stunning accent to most palette choices."
Add this kitchen cabinet décor item to your kitchen by adding gold or copper faucets to your sink areas. It's a little decadence that will go a long way.