In the midst of this holiday season, chances are you have noticed that there are areas of your home that could use a little sprucing up before company comes to celebrate. There are three quick paint touch ups you can DIY to make your house shine like your holiday lights:
Kid Room Upgrade
Kids walls take a beating all year round, and this means they can look worse for wear when it's time for company. A fresh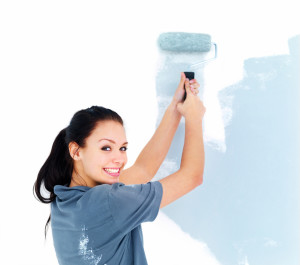 coat of paint on the walls can make the room look brand new. No matter how rough your kids are on their rooms.
Get kids help in the prep work, too! They can help you tape around the trim and windows and lay tarps on the floors and covering the furniture. If they're old enough to be interested, you can let them pick out, or help choose, the paint color you want to use on the walls.
Brighten Up Your Entryway
Your foyer is the first thing your guests see of your home. With the new paint trends of deep colors like plum or gold, you can create a one of a kind experience by repainting your entryway with rich, breathtaking color.
Be sure to add good lighting to set off the darker color and ensure your company can see the path forward when they enter your home. Consider an antique standing lamp or even hanging lights to jazz up the space.
While you're looking at the entryway, consider adding a fresh coat of paint to the front door that is complimentary to the hall paint color.
Revive your Kitchen
As the natural gathering space in most homes, your kitchen needs to invite guests to stay and relax. If your walls don't need any painting love, consider adding a new color or finish to your kitchen cabinets. Cabinet refinishing costs 1/3 the price of cabinet refacing and 1/5th the cost of cabinet replacement, it is the most economical choice to make your kitchen look brand new.
So, enjoy this holiday season and if your home needs a little painting attention, focus on these areas to add the most pop in the least amount of time.