It can be a little overwhelming choosing a paint color for all the walls in your home. Looking at swatches and color wheels can leave your head spinning. There are a few tricks of the trade that you can use to simplify the paint color selection process, whether your plan to DIY the project or have a professional painter do it for you.
Understanding the Color Wheel
While looking at what seems to be every color under the rainbow in one space can be a little hard on the eyes, there is a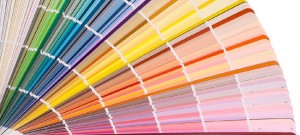 way to turn the paint color wheel into a tool that serves your purpose of creating a beautiful flow of color through your home.
On one side of the color wheel are cooler colors, blue-based hues; on the other side are warm, yellow-based paint colors.
When looking at the paint colors on the wheel, those that sit directly opposite each other are complementary colors. They can be of different hues, but the contrast they provide will create a lively space.
Any paint colors on the wheel that are next to one another are related. If you want a color scheme for your home, you can use a base of related colors and add some flair with complementary colors from the opposite sides of the wheel.
Rooms with Little Natural Light
Depending how your home is laid out, chances are you have a room or two with little to no natural light. This often happens with powder rooms and pass-thru sitting rooms. If you have rooms in your home that haven't any windows or only small ones, you need to be considerate of the lack of natural light when selecting a paint color. There are a few tips that can help:
Size Matters: If the room is small, like a powder room, then a lighter paint color would most likely work best, so the space doesn't seem smaller than it actually is. A light color paint will increase the perceived space.
Don't Be Afraid of the Dark: If the space isn't too confining, you can always go with a darker, richer color to add character to the space. If you do this, it is recommended that you accessorize with brighter pieces to set off the dark walls.
Testing Paint Colors, the Right Way
When you go shopping at a paint or home improvement store, you probably will come home with piles of those little square swatches of colors. The actual block is maybe 2 inches square, and you're supposed to be able to hold it up to the walls in your home to assess if the color will work on your entire room. There's a better way.
We recommend that you buy a quart of the paint colors that really interest you, and paint a 2 x 3 foot section of your walls to get a solid perspective of how they will look. While this practice can cost a few dollars up front, it can save you the cost of buying gallons of paint that looks awful once you paint it on your wall.
Paint colors don't have to be hard to choose. The tips above can help you add color to your walls, ceilings, trim, cabinets and accessories to create a truly unique style for your home.