Are you thinking of selling your home? With spring finally sprung, chances are if you have been considering it, you are taking action to put your home on the market during what is without a doubt the busiest real estate sales time of the year. Before you call a realtor, take care to get your home into selling-condition with these easily-overlooked painting services that can easily increase the listing price of your home:
Where Do You Spend the Most Time in Your Home?
The kitchen is often the hub of the home, where meals, day-to-day activities like homework or bills, and general gathering happen. It's no surprise that the condition and look of your kitchen can have a huge effect on your ability to sell your home. Before you call the realtor, take a step back and look at your kitchen as if you didn't see it every day – like you have never been there before.
What do you see?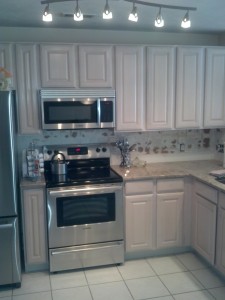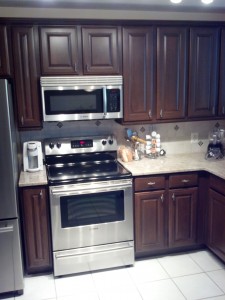 Are the cabinets updated, and do they look well-maintained? Do the colors in the room feel warm and inviting? Are the hinges on your cabinets and doors matched and in good condition? Each of these criteria will draw attention of potential home buyers who do an open-house walk through your space, s they need to be on your radar before you list your home
Cabinet refinishing is an economical and effective way to update your cabinets, islands and doors to give your kitchen a cohesive and updated look. Priced at 10% the cost of replacing your kitchen cabinets,  the process to refinish kitchen cabinets can be managed in as little as a week or two, and increase the beauty and durability of your kitchen.
A rule of thumb when applying a cabinet refinish before listing your home:
If you already have oak cabs or cabinets of similar color, go light or white color. It gives the kitchen a bright clean modern look. The only time I would recommend dark cabinets like black or java is if you have a very light floor and light counter tops. You want contrast and balance in your kitchen. You don't want it to be oppressive-feeling because it's overly dark or washed out because it's overly light.
 Focus on Walls and Ceilings, But Don't Marry to Them
If your cabinets are in good shape and don't need an update, take a look at the condition and color of your walls to enhance your current look. If the cabinets are already dark like walnut or mahogany, definitely brighten up the kitchen with white or cream color paint.
If the cabinets are already light, maybe a fresh coat of paint just to clean them up, balanced by a brighter color on the walls, like yellow or light green.  That lighter brighter color rings true for the rest of the house as well. Stick with a similar color palate throughout the house to create a sense of fluidity.
Be conscious not to fall in love with the color fan deck and try to pick a different color for every room, just keep it simple. The perspective homeowner just wants to see neutral colors and picture their own space after they move in. Remember, the point of this exercise is to ready your home to sell, not to reinvent your space.
Invest into these painting services for your home and then call your local realtor. The time and effort will prove worthwhile when your home sells faster than it would have without the updates.