'Tis the season to entertain, to gather together with family and friends and celebrate the holidays. As you prep your home for your next get-together, chances are you may notice some areas, like your kitchen, may be in need of a little repair. Kitchen renovation ideas tend to center around the kitchen cabinets and counters, first and foremost.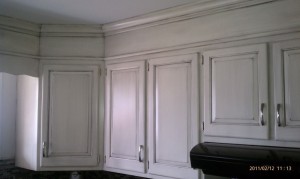 We have often heard from prospective clients, "When is it a good idea to paint, or refinish, kitchen cabinets?" There are really only a few instances when painting kitchen cabinets is NOT the answer to your kitchen renovation ideas.
Refinishing old cabinets, or even newer ones that are not the style you like, is the most inexpensive (in and around 1/3 the cost of cabinet refacing and 1/6 the cost of replacing kitchen cabinets with brand new ones.) and effective way to upgrade your kitchen. However, if any of the following scenarios is true of your kitchen cabinets, call a professional skilled in cabinet refinishing to see if it's an option for you:
If many elements like shelves or the frames are broken on your cabinets. It may be that the frames are still intact; and doors can be replaced, so talk to your cabinet refinishing professional if your kitchen cabinets have seen a lot of use.
If your kitchen cabinets are laminated, cabinet refinishing may not be an option. Laminate can be difficult, and sometimes impossible, to remove from cabinets without damaging the integrity of the cabinet structure.
If you want to change the layout of the kitchen. While your kitchen cabinets can still be refinished, redesigning the room layout as part of your kitchen renovation ideas may need to be completed before you bring in a cabinet refinishing professional.
Other than that, painting kitchen cabinets is a great option, almost any finish can be achieved to create the design and décor you want for your entertaining space. So, when you notice your kitchen cabinets need a little TLC before you have holiday company, like my motto goes:
Don't Re-Face, Don't Replace……….. Refinish!