The short answer is practically never. Previously, we discussed tearing out all the cabinets because they were either very old and broken or the layout of the kitchen was to be completely changed.
If a permanent surface countertop has already been installed like granite or corian then that is no longer an option. We can assume that if someone was willing to put a permanent surface countertop on these cabinets in the first place, then they must be in pretty good shape, certainly something we can work with.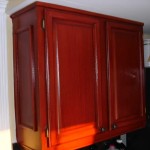 Now then, an argument could have been made that cabinet refacing is needed because some existing doors were damaged or broken. Recently, however, I have begun working with professional cabinet makers who will make any style cabinet doors which I can refinish in anyway the customer requests.
Cabinet refinishes can range from solid color paints and stains to glazes and painted wood finishes. An order can be as small as one or two doors that  need to be customized or an entire kitchen worth of brand new doors and drawer fronts. Even hard-to-coat materials such as melamine  or thermofoil can be an issue.
In these case,s new doors would be made and the boxes (the part attached to the walls) would be primed and painted to match.
Recently, I had a customer with laminate kitchen cabinets who recieved a price of about $7,000 for cabinet refacing. Keep in mind, she only had a very small condominium and a small galley kitchen. I was able to have brand new raised panel doors made complete with fully hidden bloom hinges which I then painted and installed for less than $2,000.
If you do the math, you'll see that she saved $5000 dollars by selecting cabinet refinishing over cabinet refacing, which in this case was 350 % more expensive.
So lets review.
When is it better to reface cabinets than to refinish cabinets?
Let's look at the options offered with a cabinet refinish :
Decorative trim additions
Crown Molding
Additional cabinets can be installed
Custom cabinet doors can be made
Almost unlimited finishes available
Anywhere from 3 to 5 times cheaper than refacing.
So when is it better to reface than to refinish, like I said almost never.
Call me,  Carm,  for a free estimate anytime to see how much we can save you when we build a custom look for your cabinets.